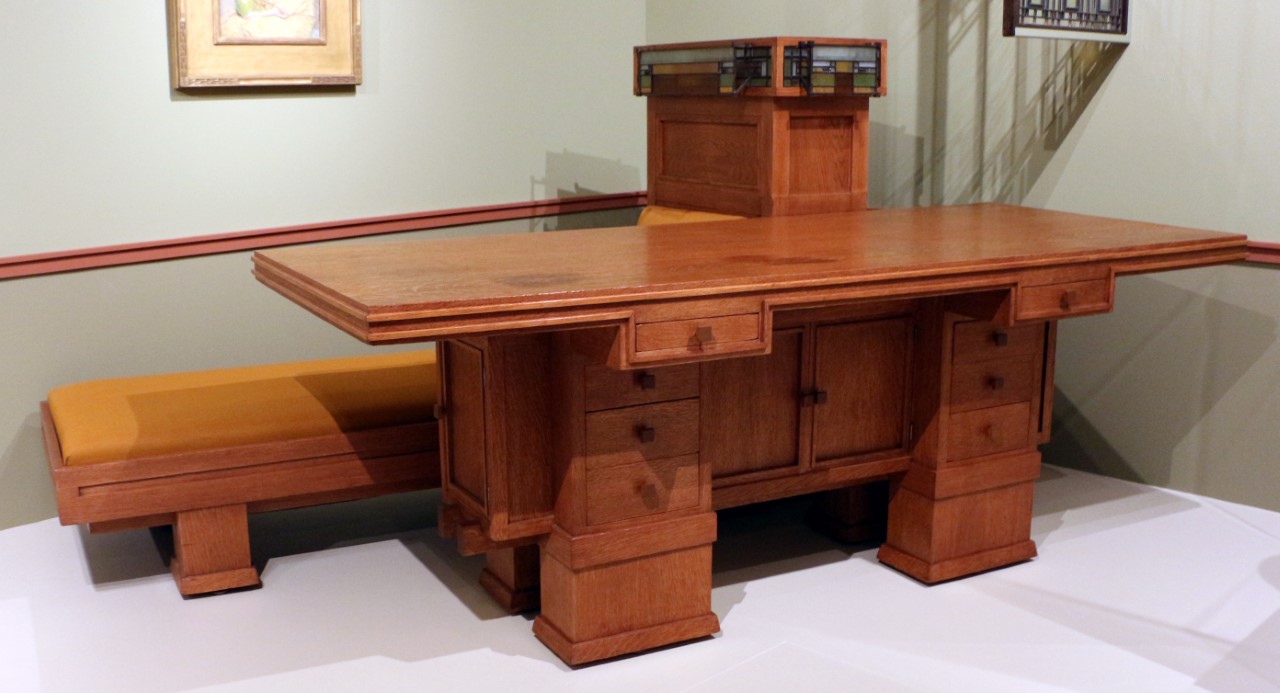 Who was George Mann Niedecken?
If you don't know his name, it's almost impossible to find him on the internet, especially if you look for "interior designer who helped Frank Lloyd Wright" since Wright gets 100% of the credit.
Want to be on trend? The perfect mismatch.If you have been reading my blog, you probably know that I reject the trendy nature of design for offices and homes. Trends encourage people to match other companies or their friends or magazine images, so that the whole beauty of custom design is lost: making spaces that reflect who the company/non-profit, or family really is. I put offices and homes together not only because we live at the office and work at home, but also because the magazine images of each type look so alike i.e., more susceptible to wanting to be on trend. Didn't your mother ever tell you not to worry about what other people think? Upon reflection, I think that trendiness does have value (beyond its ability to generate economic growth). I got asked by a journalist to comment on repurposed furniture. My answer is confidential until the article comes out, but it made me think about how I love spaces that reflect the span of time.Timelessness comes not from ignoring all the trends, but from adding elements that reflect time and place and culture and point of view. The perfect mismatch can happen when we introduce a "trendy" element into an existing space. For example, if we put sleek, modern wall sconces above an arts and crafts fireplace, the juxtaposition of the two eras creates interest and excitement. The "friction" of the mismatch encourages us to see every detail. When every detail is of the same era, whether contemporary/modern or traditional/vintage, the effect is an overall effect, and it is less about the details. Think about cooking, adding spice or heat to a traditional dish brings it from historic tastes to modern tastes. Let's not back-slide design into a purist theoretical concept, but keep it lively by adapting some elements to modern tastes. Mies van der Rohe famously said, "Less is more." Robert Venturi infamously said "Less is a bore." If you're planning an update to your office or home, please call us. We can help you figure out how to design a new space that reflects who you really are, that incorporates elements of the past and the present, and that will accept future introductions as how you work or live may change over time.​
Everywhere I look, I see an article about trends, either past tense; "what we saw as trends in 2018;" or future tense: "What will we see as trends in 2019." Here are some that I actually clicked on (aargh, this is embarrassing); Trends for bathrooms (wall to wall mirrors) Trends for meditation (just do it!) Trends for sports uniforms (retro & modern styles) Trends for TV's and other technology; (flat, really flat, that are glued to really flat walls) Trends for restaurants (botanical wallpaper) Trends for furniture (blue banquettes! Oh, and hand stitching!) Now that I saved you the time required to read that nonsense, here's what I really think of trends; don't think about them! We are in a service business so when our clients want something that is "on trend" –​ they are watching/reading too many design magazines/tv shows. I think they are really asking for change. Change is good, especially when it brings us new clients, but sometimes being "off trend" has a timeless quality that is more resistant to change. We build our design work with the tools of the trade: color, light, texture, form, pattern, line, and sound. We activate or quiet a space using these tools. We can manipulate how a space feels using these tools. Do you want to feel happy- you have to find the happiness inside you, but we also know that happiness is as infectious as a yawn (thank you Shawn Achor, speaker at the Women's Conference Boston 2018 and author of the "Happiness Advantage"). If a coral orange is the color of the year, that doesn't mean you have to use it. How does that color help you build the environment you are trying to create? For startups, there is often no history upon which to stand, or that can get in the way of creating a new identity. For older, long-standing companies- adding a trendy element can help give an organization a boost away from an outdated design. If a company has a ten-year lease, the team probably allowed more money to be spent on the initial build-out, but 6 years into term it may be time for a few strategic updates in order to not look shabby. That trendy orange might be just what is needed for improving the lives of employees for 4 years. Or not. The point is that a transformation can be made with a series of small gestures. One doesn't need to tear down all of what exists to feel fresh and new. One doesn't have to follow what is proclaimed as the "Trends for 2019" to create that feeling that you want to have when you enter/use/work/play/age/live or learn in a space. If you want to discuss this year's trends- or if you want to avoid them, give me a call!
Janis Joplin was an amazing artist. She was a Rock Star, and yet she was able to use music to openly express her vulnerability and pain. Although she was inspired by others, she remained true to herself. We knew that she was the "real" deal, and she was fearless. I'm not suggesting that you emulate Janis Joplin- no screeching on the job site! But here are my 6 tips on how to become a Rock Star as a woman in design and construction. 1) Stay CalmThere are constant pressures and frustrations on a construction site. Keep your cool and you will build respect. "When angry count to ten before you speak. If very angry, count to one hundred"-Thomas Jefferson 2) You don't have to know everythingEmbrace your vulnerability. It's OK to say, "I'm not sure, but I'll get right back to you with the answer." 3) Become an expertBecome an expert in something that interests you. You don't have to know everything, but you do have to know a lot about something. Then you become a go-to person. 4) Be true to yourselfNobody trusts a faker. When your authentic self-shows, others will trust you. 5) You don't have to rush everything"Delay is preferable to error."-Thomas Jefferson 6) Overcome your fearsYou can do this! I can teach you to do some hands-on exercises that will help you see that your fears are usually overblown. (Just email me and we can do a group training session). Follow these steps and soon you will rocket up the ladder of success. Leslie S. Saul, IIDA, AIA, LEED AP BD+CPresident, Leslie Saul & Associates, Architecture and InteriorsCambridge, MA and MIAMI, FL.C 781.266.7900​
What makes you sweat?There is a gorgeous photo in the August 27 issue of the New Yorker of two graceful ballerinas posed evocatively in a mysterious setting of stage and body of water and gray sky (a painted scrim, yet a compelling visual backdrop in the photo). The photo is an advertisement for the New York City Ballet that opens its new season on September 18. The ad proudly proclaims "#SWEATBEAUTY" as if we need to be reminded that Ballet may be gorgeous, thrilling, dangerous, and ethereal, but it is also hard sweaty work to train one's body to do the hard work while appearing effortlessly beautiful.Thinking about the physicality of Ballet made me think about Sports. In Sports, athletes train hard to perform at their peak abilities with the goal of winning. #SWEATWIN you might say. Some of my young readers may not remember the great hockey player, Wayne Gretzky, who was described as Balletic as well as Athletic. Watching him play was amazing as it looked like he was always in position to shoot thepuck and score. He talked about visualizing where the puck would be, not looking at where the puck was. Anticipating correctly what his teammates and opponents would do is what set the Great Gretzky above his peers. He made it look easy, but we knew that it was sweaty.Ballerinas sweat in the service of Beauty. Athletes sweat in the service of the score. But there is another difference. Ballerinas sweat in the service of a choreographer's vision of Beauty. Although many dancers become choreographers, they are trained to learn the steps that others have assembled, to internalize the story and emotion of the choreography, to execute those moves perfectly, and through this movement and music, to communicate the story line to the audience/the fans.Athletes from team sports must learn the "plays" developed by the coaches. Their opponents learn their own plays, including how to stop the other team's plays. Where choreographers can plan an entire Ballet performance, team sports athletes must be able to change the play to fit the situation, and not be so predictable that their opponents can anticipate what comes next. The athletes who seem to be themost successful are able to anticipate what will happen next. These top performing athletes are the smartest and most strategic players. NE Patriots quarterback Tom Brady may have achieved his longevity and his Super Bowl rings with his brain, perhaps more than with his quick-release throws. Both Ballerinas and Athletes must have a good memory and great timing.How does this hard work, both physical and mental, apply to what we do as architects and interior designers? We act as both choreographer and coach, creating the plans for the spaces that fit the needs and wants and budgets and schedules of our clients. The builders and artisans are the "athletes" who execute our "plays." Most of our projects are renovations, so we must also be strategic and try to anticipate what can go wrong, what the buildings may be hiding that we cannot see (which is pretty much impossible some of the time), what material has just sky-rocketed in price or is unavailable in our required timeframe. We must be willing and able to alter the original choreography, whencircumstances prevent the project from going according to plan.If you have a project, whether for improving your office, your store, your restaurant, your home, your church, mosque or synagogue, your college/university or daycare center, please call us. Let us sweat a little for you!​
Is it Time for a new Post-Modernism? RIP Robert Venturi​
Robert Venturi and Denise Scott Brown were Philadelphia based architects with a sense of humor, an appreciation for buildings with soul, and a willingness to credit and learn from the contributions of others, past and present. Robert Venturi was one of my heroes. Not one obituary that I have read mentioned my favorite Venturi story: When Robert Venturi was awarded the Pritzker Prize, he said that he would only accept the award if it included Denise Scott Brown, his wife and long-time collaborator and co-author. When the Pritzker committee declined to extend the award to include Scott Brown, Venturi subversively never said "I", only "WE" in his acceptance speech. In the age of "I did it all myself" starchitects, who famously ignore the contributions of others, especially contributions from women, Venturi's appreciation of his wife's partnership was heroic. Please read this collection of obituaries or this Boston Globe obit to discover some other great stories and learn more about the actual projects done by their firm. I was just in Miami, where big boxy white boxes are the standard new house design. When I talked with local real estate professionals, friends and fellow architects, I heard the same complaint over and over: these white boxes have no soul. Venturi describes the work of the modernists of the 1960's as having no complexity, and as he drew from the past, he became the "father" of Post-modernism (a title that he hated). Venturi's sense of humor meant that many architects did not take him seriously, and perhaps some of his projects lacked gravitas, but for me he opened a world of looking at neighborhoods in the context of how buildings can speak to each other no matter their era or style, and how it's okay to appreciate the glitzy strip of Las Vegas. I went to architecture school in the middle of the 1970's at the RISD. The architecture school was filled with professors who came from varied architectural points of view. There was a prof who loved Louis Kahn, another who loved Corbu, a follower of Alvar Aalto, another who was passionate about passive solar and underground houses, a Miesian/Meier afficionado, an artist architect from the British architecture studio Archigram who loved Venturi and other post-modernists, while creating drawings and paintings that were painstakingly renaissance in their detail, and who also turned us on to Aldo Rossi and Super Studio from Italy. There were formal neo-classicists and don't forget the conceptualists who were more about ideas than about buildings. RISD was a great place that was open to ideas from everywhere, and where rules could be broken. As a person who has reviewed portfolios from young architecture graduates from around the world, I can tell you that some schools must have only one point of view these days, or maybe the starchitects sprinkle fairy dust over the students, because I see theGehry look-alikes, the Zaha Hadid wannabes, the Morphosis knock-offs, and the white and glass boxes, not quite Mies or Meier caliber, each consistently from a particular architecture school. When is the next architecture revolution coming? The tyranny of Modern in the 21st may be turning a new crop of rebellious students into Venturi influenced retro designers, open to the whole conversation of architecture. I hope that learning more about Robert Venturi will encourage them to read "Complexity and Contradiction in Architecture," written in 1966 and relevant today. Venturi and Scott Brown encouraged us to take ourselves less seriously, to love the past, to not be afraidto break rules, to draw, to write, to teach. Rest in Peace, Robert Venturi, your spirit lives on in those of us inspired by you. My sincere condolences to Denise Scott Brown. What a partnership!
Want a challenge? Play Golf!
I play golf in the Summer in New England and occasionally in the Winter in Miami. I've been playing on and off for almost twenty years, but I've gotten serious about improving my game over the past five years or so. No one can believe that I like golf. Maybe it's because people assume that a creative soul like mine wouldn't like the preppy world of a stereotypical golf country club. Side-bar: If you want to learn about what a fictional country club life is like, watch Amazon's "Red Oaks." It tells the story of the creative misfit daughter of the President of the country club making friends with the wannabe filmmaker/tennis assistant pro at the club along with other stories of family dynamics, love, and income inequality of the members versus the workers. It's hysterical! We don't belong to a club, instead preferring to play a variety of public courses. We've been paired with all types of people, some more enjoyable to play with than others. We've discovered that golfers are teachers, property managers, sub-contractors, musicians, chefs, business owners (their country club was closed for repairs), scientists, bankers, architects and retirees. It may be the best part of playing on public courses. Golf is a sport that is mentally and physically challenging. I think that some folks don't think it's a proper sport because it's not aerobic (is baseball?). Of course, now that there are folks who watch professional video gamers, perhaps aerobic exercise is not the only criteria for a sport. One thing that most sports require is practice. I am a fair-weather golfer. I'm not so obsessed that I will play in 100-degree or 40-degree weather, or in rainy or extremely windy conditions. One summer the weather was so gorgeous that we got to play every weekend day and I actually improved my scores! But golf is not just about learning to strike the ball, which is so much harder than it looks on TV. Golf is mentally challenging!!! Once I broke 100, I raised my expectations for myself. Confidence is important in any sport or work of any kind, I guess, but golf is unlikely to allow you to sustain that confidence. One time I broke 90, then I scored a 104 the next time out. Last week I got one of my very rare birdies on one hole, then immediately scored a double bogey on the next hole. Explain, please. Then explain why I love to play it! Architecture and Interior design are also challenging. Fortunately, our successes build on each other. No project is perfect, but the issues tend to get smaller as our experience increases. Experience also helps us communicate to our clients about the probable outcomes for each decision. We have five practice areas: work, play, age, live and learn. Over time, our practice areas have become specialties. Experience really matters for design and construction projects. I love what I do. I love to see great outcomes for our clients who are willing to let us guide (caddy?) them through the "course" of a project. Interested in teeing up your next project? Looking for more birdies than bogeys? Please call and learn more about how we can help. ​
Motifs are a repeated element or theme in music, literature and in design. In design, a motif can be inspired by a company's logo, a homeowner's favorite piece of art or music, a client's passion/mission, a historic element in an existing building, the shape of a letter, or even nature itself, such as a nautilus shell, rose bloom, or maple tree leaf. Use the motif only once and it is a focal point, but use it often and it can tie a building together visually, communicate a message or add a little fun. Use it too often and it can make a space look like you are selling luxury goods (think the Gucci logo). Even luxury brands are adjusting their logos to differentiate from the copy cats. Gucci's advertisement on the back cover of the July 2018 edition of Boston Magazine features a bedazzled shoe with a giant "G" on the toe. But I digress.Creating and selecting a motif really helps us as designers to understand better who a client is and what brings them joy. Some of the applications of the motif can be quite subtle and can be fun for the client who after moving in can search for the motifs and discover where we have hidden them. Like my previous post about patterns, the use of a motif can personalize and enliven a space that might otherwise be more generic. (If you read my post about "meh" you might know that sometimes generic is good!) In music, John Williams understood the power of the motif or theme. By having the motif reoccur, in variations of the original, we the audience can get a clue about what is about to happen. Think of his brilliant "Jaws" motif or the theme of "Raiders of the Lost Ark." The man could churn out an identifiable, unique musical theme for each movie. Inspiring and intimidating. Before John Williams, there is another musical motif that comes to mind that I bet you can hear in your mind's ear when you read this: "James Bond" by Monty Norman. Mr. Norman has collected royalties since 1962. Between the years 1976 and 1999, he earned 485,000 British Pounds. A good motif pays well! Don't let the brilliance of some composers and artists intimidate you. In design, a motif can be simple, like a quatrefoil, a musical note, or a triangle, and still serve the purpose and grand design goals of the project. Start with something simple, then embellish, simplify, enlarge, or reduce it and you may find the secret ingredient for taking your space to the next level. When you are ready to discuss a motif that is appropriate for your project, give us call! It's never too late to add a little fun and a little meaning into your life. ​
Patterns are everywhere, in nature, in man-made things and in behaviors. Sometimes we use patterns as models for things, as in dressmaking or woodworking. Sometimes we get trapped into perhaps bad patterns of behavior, such eating dessert after every meal. Sometimes we add patterns as a decorative tool in our designer tool belt. From a design perspective, patterns are back in after a decade of solid colors. I've even seen the overabundance of patterns, English decorator style, in a few design magazines that previously featured only stark Modern minimalism with pops of bright color. Shocking!! I have also noticed that even the modernists are using patterns to add life to their white spaces. Biophilic design, incorporating nature into architecture, has been pretty popular for at least the past five years. Twenty years ago, we studied how Mother Nature made her patterns as inspiration for our own design work. We discovered that curves in Nature are almost always made up of straight lines. Even those curvy leaves, on closer examination, are made of segments. We thought this was exciting in the late 1990's. If you look at our portfolio, you'll see many examples of the segmented curve. This is an example of a pattern that is integral to the design, rather than a decorative add-on. Decorative patterns are also important. We know that life, whether in the office, in a restaurant, in a home, or in a library, is hard on most interior finishes. Adding pattern to carpets (case in point antique oriental rugs that are still beautiful after 100 years of use) or fabrics will do a good job of hiding the wear and tear and dirt of life. Although you may think that designers want our clients to redo their spaces every year, for us the longevity of a space is important not only as an economic benchmark, but also as part of creating a more sustainable planet. I remember buying my first sewing machine when I was 12 or so. My Dad said that I could select anything within a certain price limit. Together, we narrowed down the choices to two. One was a Singer, with every gadget and fancy stitch you can imagine. The other was a Husqvarna, white, simple, with only the basic straight and zig-zag stitches. They were the same price. I chose the simple and sturdy and elegant one over the fancy and complicated machine. I sewed on that machine for 40 years, with maybe one or two maintenance services. I used patterns when I was young, but then learned how to make my own patterns when I was at RISD. These skills were put to the test as I made costumes (pirate captain, cowboy, fire fighter) for my son. That wonderful sewing machine finally died a decade ago. Two years ago, I finally decided to replace it. My new (used) machine is a Pfaff from Germany. It is good looking and it has the fancy stitches. It took me almost a year to get up the nerve to use it! Do you use patterns in your work or hobby? Do you have patterns of behavior that you would like to change? Do you appreciate patterns as decorative elements? We would love to hear your thoughts. If you think it is time for a little pattern in your home or workplace, give us a call!​
How to improve productivity without giving up the open office​
Many of you will remember the old McKinsey study on improving productivity in a factory. Every time the lighting was brightened, the productivity went up. After a while, productivity stabilized, so the researchers tried reducing light levels. Productivity climbed again. Researchers' conclusion: changing the work environment can improve productivity. When enclosed offices gave way to open offices, productivity went up. After making "cubes" smaller, productivity went up. After a while, the small cube open environment got reinterpreted as even more open, more rustic, and at first this felt fresh. Now almost every article in the business press [see this interesting example from NBC News] has been about the disaster of the open office. My theory is that employees like choice and change, but employers like cutting RE expenses and looking trendy. The unsuccessful open offices are noisy (no acoustic ceilings) or strangely quiet (with earbuds in every person...see this article from Harvard Business School), dark (bad lighting), and crowded. These open offices feel more like a monastery for monks copying manuscripts than like a creative collaborative workplace. There are not enough private spaces for either 2 people to work together or for 1 person to work alone for intense concentration. These private spaces cost money to construct and for the increased space requirement, resulting in increased rent. Corporate Real Estate Departments who brag that their cost of space/person is low may find that attracting new workers has troughed, and that productivity may have tanked. Since the McKinsey study proved that change to the work environment can increase productivity, corporate America may want to reorganize the open office to maximize options. One of our recent projects in Boston for a large local non-profit implemented the concept of workplace choice. Without increasing the overall square footage of the space, the workplace was transformed (see image above). The new floors have a feeling of openness but there are dozens of private booths that are available for standup work, reading in a lounge chair or for 2-person meetings. We provided 1 private booth for every 4-5 people. At first, no one realized that the booths were available for them to actually use as needed, and almost every booth was vacant. Within a month more than half were occupied at any given time. When asked whether they liked working in the more open environment, it was interesting to hear their responses. They actually liked working at their smaller 120° cubes, and they felt less of a need for more privacy because privacy was readily available. I found it curious that the secluded quiet rooms (bigger than booths) were not in high demand. I think that the acoustic "white noise" mitigation makes the whole space quiet enough to concentrate and quiet enough to speak on the phone or to others without shouting and without disturbing others. Acoustics may be the central reason that some open plan offices are considered failures. For more information about the acousticians who worked on our successful open plan workplace, visit the website of Acentech. If you want to transform your workplace from noisy and dark into a quiet, bright, happy and productive revitalized space, please call us. Increasing productivity, decreasing absenteeism and improving employee engagement is a complicated challenge. We would love to help!​
Leslie Saul
&

Associates, Inc.
architecture and interiors
Cambridge Office:
1972 Massachusetts Ave.
Cambridge, MA 02140
Office: 617.234.5300
koko@lesliesaul.com
Leslie Saul
&

Associates, Inc.
architecture and interiors
Leslie Saul
&

Associates, Inc.
architecture and interiors
architecture and interiors